Comfy Sacks Home Theater Bean Bag Chairs
---
Comfy Sacks Home Theater Bean Bag Chairs
---
We recently moved the location of the Audiogurus premier home theater. The new room has two rows of seating, acoustically-treated walls, an Epson Pro Cinema 4040 projector, and a 130-inch screen. Even though we can comfortably seat eight people, we often have more for movie nights. What to do? One solution is adding "bean bag" style chairs up front. While not exactly made with beans, the Comfy Sacks home theater bean bag chairs fit the space perfectly, and they came in the style and color we wanted.
Fit, Finish, and Options
You can get the Comfy Sacks home theater bean bag chairs in sizes ranging from 3- to 8-foot lengths. There are also "sacks" and "loungers". The loungers are more oval in shape, while the sacks are round. We opted for two 5-foot loungers, which came in at around 5 ft. x 3 ft. They also stand about 3 ft. high. The Comfy Sacks use either a microsuede or pebble fabric. The microsuede is a soft machine-washable polyester that holds up and has a lot of history in the furniture industry. You can even out the microsuede cover in the washing machine when needed. There are 11 different microsuede color options.
The other cover style is the premium pebble fabric. Available in two colors (red and chocolate), pebble is a machine-washable 100% nylon fabric that is textured in a mosaic pattern. It feels a bit more velvety and has a brighter look over the microsuede. It maintains breathability, however, so it's a decent option if you want the upgrade. Adding it to the 5ft Lounger would raise the price by about $40.
Opening Up the Comfy Sacks Home Theater Bean Bag Chairs
How It Arrives
You may wonder just how a 5 ft Lounger gets shipped to your house. The answer is that it arrives as a 51-pound "brick". Take a look at the shipped Comfy Sack next to one that has been fully installed.
The first step is to open the zipper on the black case that holds the compressed and air-starved Comfy Sack Lounger.
You next remove the compressed Comfy Sack home theater bean bag chair and discard the black case. The actual microsuede cover comes neatly folded in a separate bag. Almost immediately it begins to grow slowly in size. You also remove it from the protective plastic wrap before continuing.
Breaking Up is (Not) Hard to Do
The next step is rather fun. Taking your 10-year old son (or whoever you happen to have nearby), you begin to use your hands to break off and break up the material into much smaller pieces. This allows the air to more easily get to the compressed foam pieces and causes them to grow in size. It does take some work, but you quickly learn techniques to get the job done. Our first Comfy Sack took around 30 minutes, but our second sack was done in less than 15.
After the pieces are broken up, the Comfy Sacks home theater bean bag chairs start to look as you might expect.
After this step, the only thing left to do is enjoy your Comfy Sacks home theater bean bag chairs alongside a great movie. This is exactly what we did. We also used it as an excuse to introduce our two boys to Doctor Who.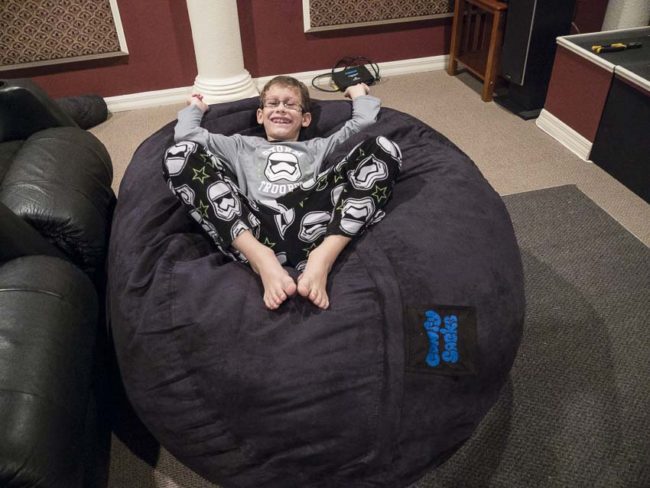 This is now a favorite place to sit in our home theater. Though we have motorized seats and comfortable leather seating surfaces, it's the Comfy Sacks that get fought over the most! You can pick up the Comfy Sacks 5 ft Lounger for around $237 (microsuede) or $277 (Pebble). For adding "overflow" seating to your home theater, living room, or family room, I can't think of a better idea.
Check out more information at the Comfy Sacks website.
---