Denon AVR-X3800H First Look – Audyssey and Dirac Together?
---
Denon AVR-X3800H First Look – Audyssey and Dirac Together?
---
Denon has been pretty tight-lipped about their upcoming 2022 line. Although some details leaked online, it was all just speculation until now! Online retailers are starting preorders for the Denon AVR-X3800H, and we now have our hands on some of the specs!
Priced at $1700, the X3800H will have some stiff competition. So join me as we take a first look at the Denon AVR-X3800H.
Denon AVR-X3800H – Under The Hood
9.4 channel, 105w (2 channel driven)
11.4 channel preamp outputs
Dolby Atmos, DTS:X, DTS Virtual:X, IMAX Enhanced, Auro 3D
8K UDH, HDCP 2.3, HDR10+, HDR, Dolby Vision, 4k/120, 8k/60 & VRR, eARC
6 HDMI 2.1 inputs / 3 HDMI outputs (2 support HDMI 2.1)
Analog/digital inputs (RCA, Toslink, and Coax)
Phono input (moving magnet)
Bluetooth, WiFi, and AirPlay 2 compatible
HEOS multiroom audio built-in
Multi-room capable, assignable, and via pre-out
Support for most voice assistants (Google, Alexa, and Siri)
Support for Tidal, Spotify, Amazon Music, Pandora, and more via HEOS
Audyssey MultEQ XT32 with Dynamic Volume and EQ, and Sub EQ HT for all four independent sub preouts
Dirac Live speaker calibration software (available in 2023 via firmware update)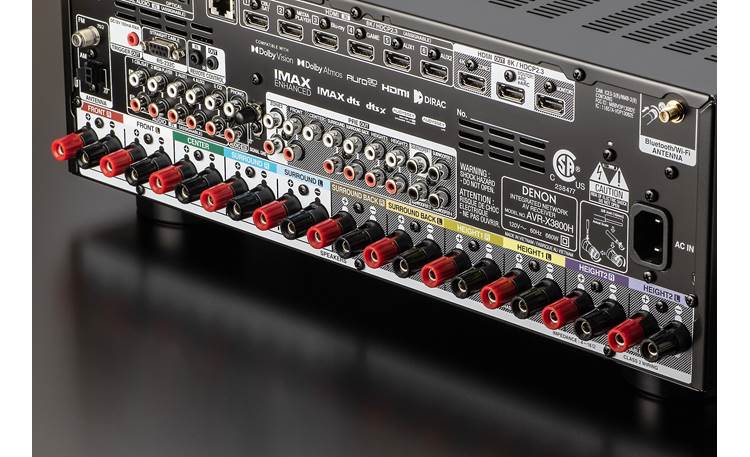 Who Is the Denon AVR-X3800H Aimed At?
Enthusiasts who want to upgrade to HDMI 2.1 functionality. This includes VRR, ALLM, and 4K/120Hz support. This would namely be next-gen consoles (Xbox Series X/S and PS5 owners) or PC gamers with the latest hardware.
Those who have demanding speakers that need a ton of power or want to add external amplification. The Denon X3800H has a full set of pre-outs.
Home Theater enthusiasts who want the option to expand their setups from 5.1 up to 9.4.2.
Support for multi-room audio.
Music enthusiasts who want support for most streaming services (via the HEOS app and built-in features) and digital formats via USB.
Users that want upgraded room correction, and access to Audyssey and Dirac Live.
Who Should Pass on the Denon AVR-X3800H?
Enthusiasts who don't want to expand past 7.2 or 5.2.2.
Users who don't want the top tier of Audessy and multi-sub optimization or Dirac Live.
Those that need more than 6 HDMI inputs.
Our Take
The biggest surprise with the Denon AVR-X3800 is the four dedicated subwoofer outputs and future compatibility (via firmware update) for Dirac Live. Dirac Live will require you to purchase separate licenses for speaker calibration and multi-sub optimizer software. The addition of Dirac is a bold move for Denon. Denon has had Audyssey built-in for as long as I can remember. I am excited to see the implementation of both calibration software. Presumably, Audyssey MultEQ-X will also be available, meaning that (for a price) you will have access to (just about) all the top-tier room correction solutions on the market!
I am thrilled to see all six inputs with HDMI 2.1. We still don't know if all are 48gbps capable or if they get capped at 40gbps. In any case, you now have some flexibility in connecting devices to your Denon AVR-X3800H.
Interestingly, Denon has doubled down on Spatial Audio. With the inclusion of Auro 3D audio, Denon is ensuring that users will have access to all of the common spatial audio codecs. Usually limited to the higher tiers, it's interesting to see these technologies coming to the X3800H.
At $1700, the Denon AVR-X3800H faces some stiff competition. The Onkyo TX-RZ50 is $1600, and the Pioneer Elite VSX-LX505 is $1700. Both models have Dirac Live included and match the X3800H for most features. One thing is sure; we now have options!
---